Yesterday was a day of travel. It was another early start at around 4:30 am, because I wanted to get in some more practice at some star lit landscapes. This was from the same location I was at the previous morning (an area known as Mormon's Row, about 20 miles north of Jackson). I should have started even earlier. Soon dusk was approached and the stars were getting washed out. On some of the shots you can see the light from a car streaming by way off in the distance on the horizon. I'll have to see if I can photoshop those out later. I also used my headlamp to throw a little light on the buildings.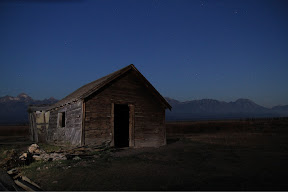 As the sun came up, I drove several miles north to get another view of the Tetons in the early morning light...
...And then just before 8 am, I got in the car and headed back to Cody. It was about a 3 and a half hour trip back up through the lower part of Yellowstone. As I drove by some beauty spots that I had missed before, I had to ignore the urge to pull over and take some more shots. I was mostly successful.
Good thing Cody has a small airport. I got there about 40 minutes before the departure and still had to turn in my rental. Flew outta there on a small commuter, connected in Salt Lake City, then onto Vegas. During that flight I met a very nice couple from Montana and we chatted for most of the short trip. I even bored them with some of my photos.
Once in Vegas, I headed to Advantage Rental Car where I let the guy convince me into getting an upgrade (10 more bucks a day) into an Altima. He explained that the compacts didn't really have any extras and with all my traveling, I would really want something more in a full sized vehicle. My last rental, a Hyundai Elantra had a Sirius-XM radio, and man, did that really spoil me. I figured I'd better get the upgrade.
To my disappointment just a regular radio. From what I can tell the big perk is keyless operation.
yay.
After about 2 more hours of driving (now with the trusty but previously neglected iPod plugged in), I got to the Comfort Inn in St George, Utah. They couldn't find my reservation. I thought I might have to be setting up my tent somewhere in the dark, and I was pretty exhausted. Luckily I had the confirmation number and they had it... Not under Easton, but under my wife's hyphenated last name... O'Connor-Easton! When I had called to make the reservation the day before, they had asked if I had used Comfort Inn before and I gave them our phone number so they could check. It was under my wife's name. I guess they didn't think to change the name to the guy that was making the reservation or the name on the credit card I was giving! I always knew that hyphenated last name was gonna come back to haunt me!
Diane... I love you and I miss you and even though you couldn't make the trip, it's like you're still with me! I just don't have anyone teling me where to drive... Except of course the GPS, which I have named "Diane 2"
Btw, when I started yesterday morning it was 28 degrees, and 14 hours later when I was driving out of Las Vegas it was 103!
So, now it's on to Zion National Park!
- Posted from my iPad
Location:St. George,Utah